One of the greatest bookstores on the face of the Earth. Every single person who works there is incredibly knowledgeable and well read and full of soul. You can walk in and ask anybody, really, what they've read lately and they'll tell you something - very likely something you've never heard of. [But] it's always going to be something interesting and fabulous. I go there when I'm feeling depressed and discouraged, and I always feel rejuvenated.
- Michael Cunningham,
winner of the 1999
Pulitzer Prize for Fiction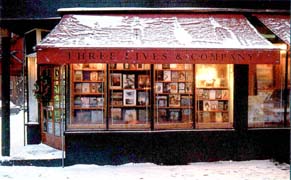 THREE LIVES is an anachronism.

It is the shop around the corner.

A touchstone in a neighborhood.

A place with a human face and a cast of characters.

84 Charing Cross Road colored by the time and place.

A haven for people who read.

Three Lives is our living room, and a living place. It is a work in progress. We (the store and our customers) have grown up and evolved together. People come here to see and buy what we consider to be some of the best books available today. They also come to discuss books, culture, and events of the moment. They meet for a sense of community in times of national tragedy and personal celebration. Intrinsically, books extend a graciousness that provokes discourse.

In 1991, the Greenwich Village Historical Society cited us for being "a pocket of civility." With the advent of the big chains and more recently the internet, there is little room to be competitive by having more or costing less. Our survival has been due to our commitment to being that "pocket" - and embracing our client's wish, for a bookstore that they have helped create.

A knowledgeable staff that reads prodigiously has been a key to our success, as has a theatrical and artistic display of the books we carry. Special orders remain a significant area of service, and we are meticulous about our follow through. We thrive on discovering literary books that might otherwise be overlooked, and thrill to give them to our customers.